If you're anything like me, the end of the year is  a whirlwind of decision making. You decide what you want to do 'next year'. You decide what worked for you and what didn't work for you. You experience regret over opportunities left unexplored. You experience a sense of pride over what you accomplished. You feel spent, and yet, excited about what the new year will bring.
In that weird 'one foot in spent and one foot in excited' place at the end of every year, I resolve to do way more than I can ever actually possibly do. I sign up for classes. I plan projects. I write lists of things I want to experience or accomplish. I'd have to be three people (or maybe a dozen) to actually do all the things I want to do in the course of 2014.
While there have been times in my life that the way a lot of my list gets abandoned before the year is out made me feel like a failure, I have come to terms with it. I get what it's about. I know that I make these lists and resolve to do ALL THE STUFF out of a place of optimism and love for what I do.
I've already gotten a sense for the things I thought I wanted to do that I probably will not be doing. Daily photographs, for example. Not going to happen. A class I signed up for turned out not to be my style at all, and another turned out to feel like 'more of the same', so I won't be investing a lot of time and energy there. I wanted to be a lot more social in 2014, and I will, but in a much more limited way than I'd planned - closer to home, less fraught with bus schedules and travel woes, no packing required.
***
I spent an hour writing this morning. It's one of the things I want to do in 2014 that I'm pretty convinced I will keep up with. Daily writing. Morning Pages a la Julia Cameron, but adapted to suit me so I'm not rebelling against prescribed numbers of pages or page sizes or word counts (because I do rebel and if I'm rebelling, I just don't do it at all!). I thought I was going to use all the prompts and programs I'd lined up to support me in my journal writing, but that's already proving not to be the case. I have enough to explore in my own inner landscape without the prompts. I know the prompts are there if I need them, but so far, there's been no need.
I wrote about the 'no thought' flavour of my home life. I wrote about how everything here feels seamless right now. I wrote about how I am completely 100% in my own skin at all times in my primary relationship. I wrote about how good it feels to feel like my relationship, after a long nine years of struggle, has finally gelled into something with enough wiggle room *and* rooted-ness to work.
I also wrote about the the things that were making me anxious. After a very difficult year of interpersonal and family stuff, my libido is pretty much a goner and I hate that - I love feeling sexy and full of desire. When I don't, I feel a bit deadened and that always, always impacts my creativity. A big waste of money in the form of an expensive indulgence that I am finding disappointing. Our finances (we wanted to consolidate our debt and that didn't go as planned). Upcoming dental bills. Therapy bills for three.
The usual. First world problems. Nothing dire.
And I started writing about how much it sucks that I make all these plans for the year and so many of them get shelved so early because I over-commit or want too much or feel a manic, unsustainable excitement in the final weeks of the year and I realized - hey! I bet some of my people are experiencing the same crash - the same omgdoom, I'm over committed AGAIN and there's no way I can sustain this and I suck and woe fail.
So here I am. With a gentle nudge in the direction of your own rightness and likeability and worth. It's *okay* to reassess, even as early as this. It's okay, too, to feel the crash, the let down that inevitably happens as the year begins and you realize that, at the end of the day, nothing has really changed - you are still you. You have entered the new year with the same foibles and flaws. You have all the same challenges and limitations. The calendar flipping over from one year to the next can really set us up to feel like everything is going to be different somehow, but it never is, and that, too, is okay. More than okay. It's perfect.
That we get so excited is proof that we are alive. It's proof that we are optimistic and that we are full of passion. Take that proof and run with it in the direction of what really matters. Let go of what doesn't without beating yourself up over it. Invest where it make sense to invest. Give yourself to the things that give back to you. No slogging, baby. Slogging is for martyrs. If it's a slog, let it go. Embrace joy. Embrace ease.
(Written as much for me as for you)
We've got this.
Hi! I'm Effy
Grab A Button!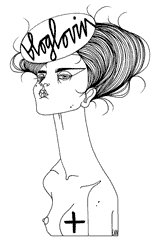 My Must Reads
Sponsors
Advertise
If you'd like a 150 x 150 logo in this side bar, please e-mail
effy@effywild.com
to express interest.