Good morning, loves! I am so excited to announce that Book Of Days 2019 is in the works and will be opened for registration on November 1st. This year long art journaling e-course will feature full length lessons by me, Effy Wild, but for the first time ever, it will also include a delicious assortment of my favourite art journaling teachers, including both some names you might recognize, and hand-selected emerging teachers that you might not!
I've been teaching this program since 2012, and it has morphed quite a bit over the years in order to accommodate my ability to teach other programs as well. This year, 2018, I finally hit a wall and knew that I couldn't teach this alone anymore. The enormity of it is just too great for one person to sustain.
Switching gears and inviting guest teachers means you not only get everything I offer, but you get everything *they* offer, too, making for a total immersion in art journaling that will provide you with plenty of new techniques to try, and new ways of approaching the journal. It also means I can work more deeply on my other programs, like Moonshine 2019 (coming soon) and A Year of Rumi (coming soon!)
Alumni in Book Of Days will be happy to note that despite the increased amount of content and value, the price will remain the same! WHAT?!?! Yeah!!
Get more details by clicking here, but remember that registration doesn't open until November 1st!
Every day between now and November 1st, I'll be introducing you to my guest artist teachers so you can get to know them before we begin.
Not only that, but every time I come here to introduce you to a new teacher, I will also be offering you the chance to win a seat in class! YES!! Details on the giveaway will come after the introductions. Think of it a little like opening the card before you unwrap the present. ;)
On deck this morning are Sarah Trumpp, Kiala Givehand, and Shai Bearden. Sarah and Kiala are 'main' guest teachers (my all stars) and Shai Bearden is a bonus guest teacher (a rising star).
Sarah Trumpp is a weird muppety girl living in the wilds of New York with her husband and an increasing gaggle of children that may or may not actually be hers.  She is a mixed media artist, yoga instructor, volunteer firefighter, and all-around goofball.  Sarah thinks you're awesome, and she's always right.
"My art journal is the place I try new things, keep track of things, and work through things.  It's also the place I do magical things, mystical things, and straight up weirdo things."
Sarah will be featured in January of 2019, and throughout the year with water-colour tutorials (three of them!). In the meantime, you can find her on her website here, on Etsy, where she sells her incredifabulous stencils here, and on Facebook here.
I love her because she encourages me to embrace and explore imagery that might be off the beaten path. She inspires my inner weird girl AND she comes up with innovative ways to combine and use different mediums in the journal.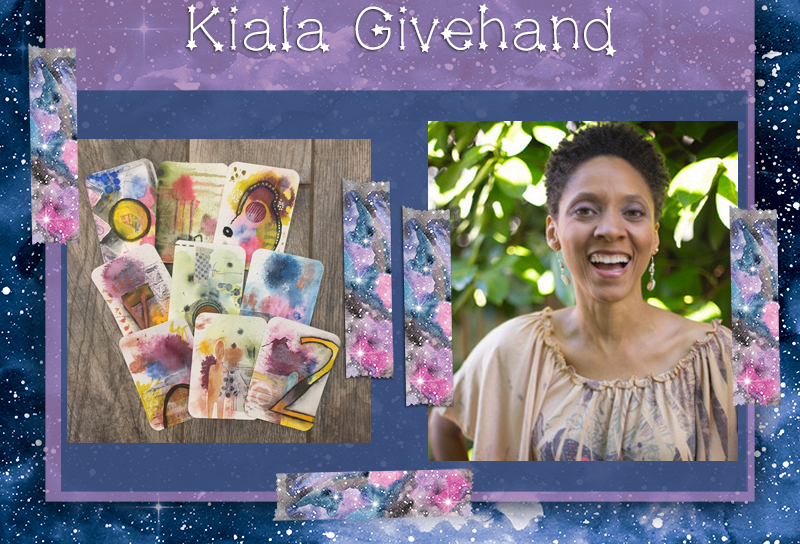 Kiala Givehand is a published poet, printmaker, bookbinder, fountain pen collector, and radical nomad. She believes in surrounding herself with ordinary humans who live extraordinary lives, gathering with people who make her laugh & love uncontrollably, and living a life intent on cultivating happiness.A double Capricorn, ambivert who grew up on the Gulf Coast of Florida, Kiala learned to appreciate and respect hurricanes, humidity, and the transformational powers of the sun, the moon, and the ocean.
She holds six academic degrees in various subjects from various Universities, but the one she cherishes most is her M.F.A. from Mills College where she found and fell in love with Book Art.
Kiala says… "Stories connect us and highlight what is unique about us. I've always been a storyteller, relying on words to convey feeling, energy, and information. Learning to make handmade journals changed how I connect & communicate and gave me a way to empower others and encourage them to share their stories. The scribbles in my journals always begin or end with words. I add color and imagery to visually share how I see the world. Art can look multi-layered and complex while being extremely simple and approachable. I use paper, color, mark making, and wordplay to create tangible versions of my stories in hopes of inspiring you to do the same."
Kiala will also be featured in August 2019! In the meantime, you can find her on YouTube here, on her website here, and on Instagram here.
I love her because she beautifully combines several of my loves – tarot, mysticism, and magical record keeping with art journaling in ways that inspire me to ohh and ahhh. She is a super thorough teacher, too, leaving no stone unturned in ensuring that her students make the most out of her classes.

Park hippie, part geek, part rocker chick with some serious Dolly Parton sass, Shai blends art, herbalism, self-love + spiritual musings with kickass empowerment + a hell-yeah attitude.  She is the spunky and spirited CEO of Wild Sister Magazine and the Wild Sisterhood, who has a fierce passion for helping women discover their unique beauty + strength + truth.
"My art journal is the place I, as an Aspie, sort out and express feelings I don't always understand."
Shai's offering will pop up all spontaneous like at some point during the year, but in the meantime, you can find her on her website here, Facebook here, and on instagram here.
I love her because she is not just an absolutely gorgeous artist, but she is a fearless advocate for mental health awareness, not to mention the CEO of an inspiring magazine that provides incredible content to Wild Sisters like you and I! She also oozes optimism, and that is something I need a little more of in my life!

GIVEAWAY TIME
Every day for the rest of this month, I'll be offering you the chance to win a seat in BOD2019! There are several ways to enter! Pick one or all of them. Each of your actions will get you one entry!
Sign up for my newsletter if you haven't already, and come back here to reply with a comment letting me know you did it.
Share the link for this giveaway wherever you post (one entry for each share). Here's the permalink to make your life easier: https://wp.me/p1ZQyo-2d3 (just highlight and copy it)
Grab a button below and put it up on your website. Make sure it links back to https://bit.ly/2OKIG4o (again, highlight and copy it!)
Leave a comment below telling me why you'd love to join BOD2019 next year
Do one, or do them all! Just make sure to comment below for each action. Every comment will be counted as one entry in the drawing, and I will announce the winner on November 1st! YAY!

And that's it for today, loves! I will see you back here tomorrow with a couple more introductions and another chance to win a seat!!