This is DAY TWO of MEET YOUR TEACHERS! Please click here to see Day One if you are just hearing about this fabulous collaborative e-course and want to know how it came to be!
Every day between now and November 1st, I'll be giving you an opportunity to win a seat in Book of Days 2019 and introducing you to my guest artist teachers so you can get to know them before we begin. This is DAY TWO!
On deck this morning are Tangie Baxter, Marieke Blokland, and Marit Barentsen. Tangie and Marieke are 'main' guests – my all stars, and Marit is a bonus guest – a rising star. Read on!
I work full time as an artist, graphic designer and online workshop instructor (I work with both digital and mixed-media). One of my biggest passions is watercolor (& urban sketching) and I push myself to use the medium past the traditionally accepted methods including in mixed-media projects. I also love playing in Photoshop, getting my hands covered in paint, collecting vintage ephemera, books, and of course, globes. I've been published in several Stampington publications, scrapbooking magazines and art books.  I am a firm believer that the true joy of creating is in the process and to begin any creative endeavor is to have already created something beautiful because you honored your divine gift to create.
"My Art journal is the place I experiment with art mediums and my own thoughts and feelings. My journals are a place of discovery, freedom and wild exploration."
Tangie will be featured in February 2019!. In the meantime you can find her store here, her newsletter here, her YouTube here, and her Instagram here.
I love Tangie because she beautiful melds digital and paper art journaling in a way that I find both inspiring and liberating. Her teaching style is conversation, and totally accessible. She even makes Photoshop seem doable!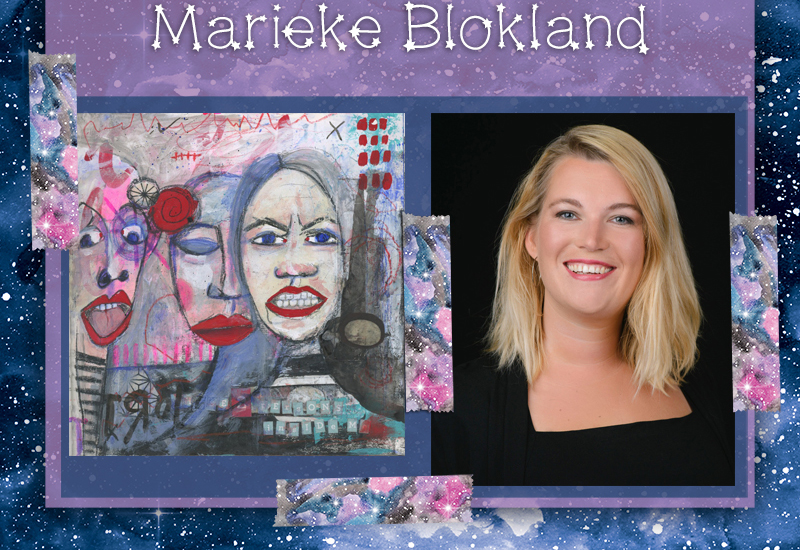 Hi! I am Marieke Blokland (1980) from the Netherlands, a self-proclaimed art supplies geek with a passion for art journaling. I love to play with art supplies and express myself visually. My quirky work is often graphical and illustrative. Sometimes raw, sometimes cute and often a little edgy. I love the art from Picasso, Francis Bacon and Grayson Perry a lot, but I can also feel really inspired by watching a Tim Burton movie, and looking at Polish movie posters, old Japanese woodblock prints, African masks, Russian folk art, children's book illustration, and street art.
"My art journal is the place where I can explore and express myself freely and develop my artistic skills. I explore colors, shapes, typography, composition and idea's, but also my emotions, my opinion, my beliefs, etc."
Marieke will be featured in March 2019! In the meantime you can find her website here, her Instagram here, her YouTube here, and her Facebook here.
I love Marieke because her work is bright and vibrant. Her style of teaching is straightforward, and she has a knack for teaching *quickly*. I adore the way she expresses herself on the page.


Marit is a passionate art journaler, mixed media artist, art instructor and creative text writer from the Netherlands. From her mom, who is a writer, she inherited a passion for words and the trait to look at the world with fairytale eyes. From her dad, who is a great amateur photographer and more of an analytic and visual type, she learned to not only look but really 'see,' and how to choose and frame subjects to get the right picture.
The combination of the above almost automatically lead Marit to become a teacher in art and right from the beginning, her art showed a combination of images and words.
After art school, Marit went on studying on a more theoretical level. Years later, when she worked as a creative digital designer, she picked up working with 'the real stuff' again. It was, however, not until she discovered 'art journaling' that her art took a big flight… Marit re-discovered the combination of words and images in a way that truly combines all the different sides in her.
Marit's offering will pop up all spontaneous like at some point during the year, but in the meantime, you can find her on her website here, Facebook here, and her blog here.
I love Marit because she knows how to create and maintain a practice that obviously wonderfully serves her. Her work is multifaceted, layered, and so interesting to look at!

GIVEAWAY TIME
Every day for the rest of this month, I'll be offering you the chance to win a seat in BOD2019! There are several ways to enter! Pick one or all of them. Each of your actions will get you one entry!
Sign up for my newsletter if you haven't already, and come back here to reply with a comment letting me know you did it.
Share the link for this giveaway wherever you post (one entry for each share). Here's the permalink to make your life easier: https://wp.me/p1ZQyo-2d3 (just highlight and copy it)
Grab a button below and put it up on your website. Make sure it links back to https://bit.ly/2OKIG4o (again, highlight and copy it!)
Leave a comment below telling me why you'd love to join BOD2019 next year
Do one, or do them all! Just make sure to comment below for each action. Every comment will be counted as one entry in the drawing, and I will announce the winner on November 1st! YAY!

And that's it for today, loves! I will see you back here tomorrow with a couple more introductions and another chance to win a seat!!