This is DAY THREE of MEET YOUR TEACHERS! Please click here to see Day One if you are just hearing about this fabulous collaborative e-course and want to know how it came to be!
Every day between now and November 1st, I'll be giving you an opportunity to win a seat in Book of Days 2019 and introducing you to my guest artist teachers so you can get to know them before we begin.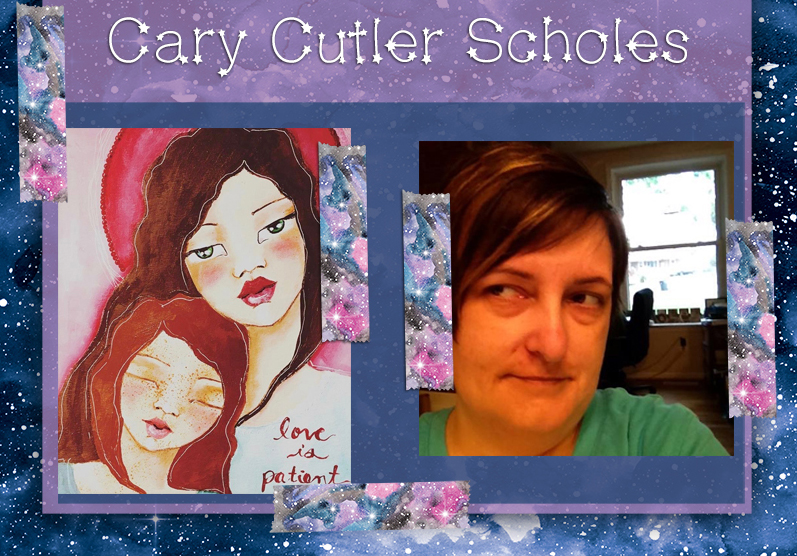 I'm a Virginia Mama (and grandma now, too!). I live with our 14 year old son, husband, 2 cats and 1 huge dog. I grew up in Northern Idaho and Southern Arizona. I have a Bachelor's degree in English (which I finished almost 25 years after I started!). Luckily, I've mostly been a stay-at-home mom. I struggle with major anxiety and depression, which I find hinders and helps my art. I get comments regularly like, "Your girls look so sad!" or "why aren't they ever smiling?" I find that every face I produce has it's own personality, and, like actual people, aren't always portrayed with a huge smile. (I get accused of having a serious RBF!) I have always loved creating things, but really didn't start arting seriously about 6 years ago. There are a ton of ways to produce art, but I think my favorite is with graphite and acrylics.  I am self-taught (well, I have watched many artists work, taken hundreds of classes, but no professional training).  I have many artistic influences which include Effy Wild, Tam LaPorte, Jane Davenport, and Kara Bullock (just a few of my favs!).
"My art journal is the place I know I can create, quickly, or in a longer process, and it really doesn't matter if there are "mistakes". If worst comes to worst, I can turn the page and start fresh.  I have learned from lessons with Effy that the background matters, so I have really taken to using song lyrics and phrases to scribble in the background. It adds so much emotion and really brings the entire piece together."
Cary will be featured in April 2019! In the meantime, you can find her on Facebook here, Instagram here, and YouTube here. 
I love Cary because she has an immediately identifiable style that comes across so clearly to my eyes. Her portraits are deceptively simple, beautiful, and meaningful. She brings a wealth of humour to the table as a teacher as well!

My name is Iris, I am a London-based mixed media artist. I live in the heart of Bloomsbury with my beautiful family (husband, 2 kids & 1 cat).
My passion is art journaling for self-expression and self-discovery. I love inspiring people to look further and go deeper through art, so they can really follow their inner creativity.
You can often find me at my art desk pursuing my many arty interests like art journaling, abstract painting, playing with art supplies and making mini journals.
Currently my favourite art supplies are: fluorescent pink everything, ultramarine blue, off white & teal paint, Daniel Smith watercolours in Lunar Black, a brayer, black fineliner and red pencil.
My art journal is the place I go to express and discover myself. It's a place for the expression of my feelings, artistic discovery, experimentation, play and to simply BE.
Iris will be featured in May 2019! In the meantime, you can find her on her website here, on her blog here, and on Instagram here.
I love Iris because her style is extremely honest and accessible. We have run in the same circles for years, and it has been a pleasure to watch her find and develop her voice!

Amanda Fall is a truth-speaker, love-believer, and heart-on-her-sleever. She's the proud creator, editor, and publisher of
The Phoenix Soul
, a fiercely indie digital magazine and community.
"My art journal is the place I remember who I was, and discover who I'm meant to be."
Amanda will pop up like a sweet surprise throughout the year! In the meantime, you can find her on Patreon, Instagram, and Facebook.
I'm excited to feature Amanda in this year's BOD because she is a total Polymath who has mastered a variety of creative modes of expression. She is the creator of one of my favourite magazines, The Phoenix Soul, and she has a style that means we aren't spending hours and hours hunched over the arty table.

GIVEAWAY TIME
Every day for the rest of this month, I'll be offering you the chance to win a seat in BOD2019! There are several ways to enter! Pick one or all of them. Each of your actions will get you one entry!
Sign up for my newsletter if you haven't already, and come back here to reply with a comment letting me know you did it.
Share the link for this giveaway wherever you post (one entry for each share). Here's the permalink to make your life easier: https://wp.me/p1ZQyo-2d3 (just highlight and copy it)
Grab a button below and put it up on your website. Make sure it links back to https://bit.ly/2OKIG4o (again, highlight and copy it!)
Leave a comment below telling me why you'd love to join BOD2019 next year
Do one, or do them all! Just make sure to comment below for each action. Every comment will be counted as one entry in the drawing, and I will announce the winner on November 1st! YAY!

And that's it for today, loves! I will see you back here tomorrow with a couple more introductions and another chance to win a seat!!