This is DAY FOUR of MEET YOUR TEACHERS! Please click here to see Day One if you are just hearing about this fabulous collaborative e-course and want to know how it came to be!
Every day between now and November 1st, I'll be giving you an opportunity to win a seat in Book of Days 2019 and introducing you to my guest artist teachers so you can get to know them before we begin.
On deck today are Tiare Smith, and Tamara Laporte, who are main teachers, and Laura Edwards, who is a bonus teacher!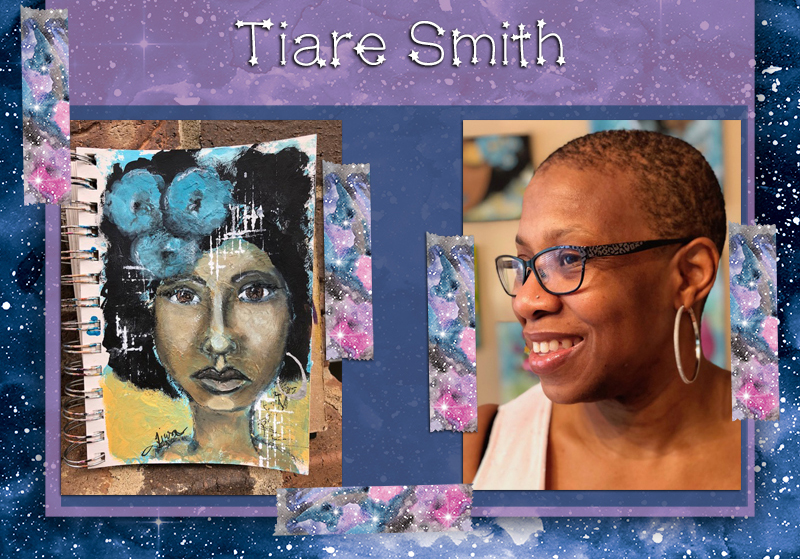 Born with art in her heart, Tiare lost her way from her art for 18 years.  It came back to her life in a burst of emotion and anxiety.  By practicing techniques of love, positive self talk, thoughts and action which have helped her to overcome other areas of struggle, she now enjoys her art in a free and inspiring way. She aims to empower women to express and experience their art more freely.
She has been teaching in the industry for more than 14 years and has enjoyed teaching around the country from the east coast to the west coast.  Her creations have been featured on HGTV, as well as in numerous magazines and creative blogs. She has designed for DecoArts, Faber-Castell Design Memory Crafts and other well known manufacturers.  You can find her art on real wood plaques sold at Hallmark Stores and Christian Bookstores worldwide.
"My art journal is the place where I can be free, where I can express myself and leave the worries, the emotions of the day on the page, where I can be peaceful."
Tiare will be featured in June 2019! In the meantime you can find her on her website here, Facebook here, Instagram here, YouTube here, and in her own teaching network here.
I love Tiare because she embraces imperfection and makes it look gorgeously intentional. Her work feels both deeply personal and universal at the same time. Her teaching style is infectiously happy! You're going to love her!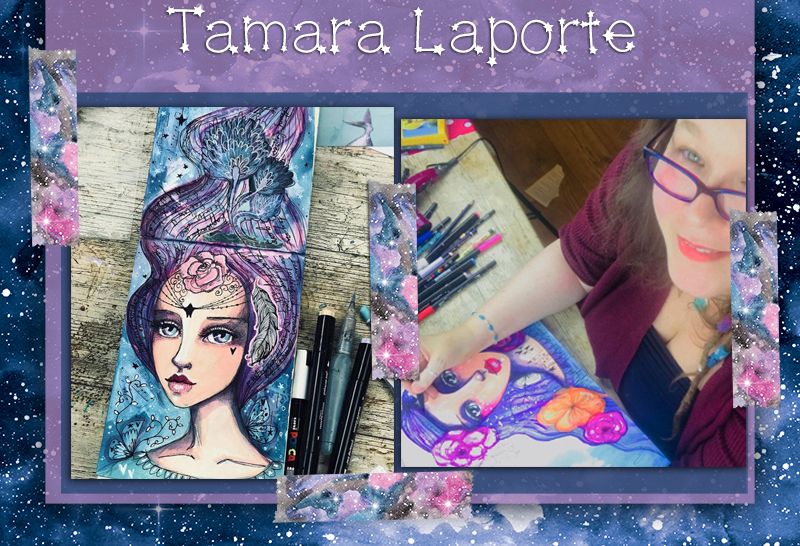 Tamara Laporte ('willowing') is a creative catalyst of thousands of beautiful people. She is a celebrated mixed media artist and art teacher who has been running her own creative business since 2008. Her work can be described as 'mixed media folk art' with a focus on 'magical realism'. It ranges from whimsical children's illustrations to a more stylised fantasy art. Love, mystery, innocence, hope, spirituality, kindness and self-connection inspires her art work. Symbolism and layering play a big part in her work. Her paintings often contain healing themes, uplifting messages and inspirational poetry.
She believes that the act of creating art can be a gateway into healing and personal growth – often, her art classes contain an element of self development as well as learning art techniques. She is deeply devoted to helping people get in touch with their creative fire and would love to help YOU too to get in touch with the artist in you!
Tam is the inventor and creator of Life Book, a year long art course that includes some of the most celebrated mixed media and personal development teachers out there. Since its inception it's been joined by over 20,000+ people who've gained tremendous artistic and personal skills through it.
Deeply passionate and caring for the well-being of the world and its people, Tam works tirelessly to bring uplifting, nourishing, creative and empowering content to her amazing tribe of over 43,000+ souls.
She lives in the South of England with her two wonderful boys Dylan & Elliot and her rock of a husband Andy.
"My art journal is the place I have deeper conversations with myself that help me become more closely connected to my deeper needs."
Tam will be featured in July 2019! In the meantime, you can find on Pinterest here,  Facebook here, Instagram here, Youtube here, and Twitter here.
What can I say about my beloved Tam? She was the first teacher I really connected with in the realm of art journaling as a healing modality. She is loving, generous with her students, and her style is immediately recognizable. Tam uses art journaling to heal and connect with herself in a way that really resonates with me. I know it will resonate with you, too!

My name is Laura, aka The Irreverent Artist, I work in art journals and also on large canvas.  When I paint, I try to make my insides communicable with the world.  I can be very verbose but, no matter my language skills, I feel the Soul isn't necessarily communicated through words alone.  
I believe that all people are creative but that we live in a world  that stamps that out of us from a very young age, yet expects us to be creative in our navigation of the roads of life!  Let's face it, we never manage to get from point A to point B without stopping off for coffee, snacks and the occasional detour on the way!  I attempt to foster creativity in everyone I meet, in some fashion, and aim to live by example in creating a truly creative life.
I am also a super swear bear, mama to a fluffy dog-bot and step mama to a gorgeous nine year old who teaches me more about life every day.
"My art journal is the place I go to, to lay myself and my story bare. True, honest and without fear."
Laura will be popping up spontaneously throughout the year with bonus content for you! In the meantime, you can find her on her website here, and on Instagram here.
I love Laura because her work draws you in like a puzzle to be solved. Her use of colour and line is exciting, and I love how much movement there is in her pieces. She brings a multitude of loves to the table, including journaling and work on canvas! I can't wait to see what she presents for us!

GIVEAWAY TIME
Every day for the rest of this month, I'll be offering you the chance to win a seat in BOD2019! There are several ways to enter! Pick one or all of them. Each of your actions will get you one entry!
Sign up for my newsletter if you haven't already, and come back here to reply with a comment letting me know you did it.
Share the link for this giveaway wherever you post (one entry for each share). Here's the permalink to make your life easier: https://wp.me/p1ZQyo-2d3 (just highlight and copy it)
Grab a button below and put it up on your website. Make sure it links back to https://bit.ly/2OKIG4o (again, highlight and copy it!)
Leave a comment below telling me why you'd love to join BOD2019 next year
Do one, or do them all! Just make sure to comment below for each action. Every comment will be counted as one entry in the drawing, and I will announce the winner on November 1st! YAY!

And that's it for today, loves! I will see you back here tomorrow with a couple more introductions and another chance to win a seat!!