This is DAY FIVE of MEET YOUR TEACHERS! Please click here to see Day One if you are just hearing about this fabulous collaborative e-course and want to know how it came to be!
Every day between now and November 1st, I'll be giving you an opportunity to win a seat in Book of Days 2019 and introducing you to my guest artist teachers so you can get to know them before we begin.
On deck today are Lee Clements, who is a main teacher next year, and Elizabeth Watkin, and Isabelle Savignac, who are bonus teachers!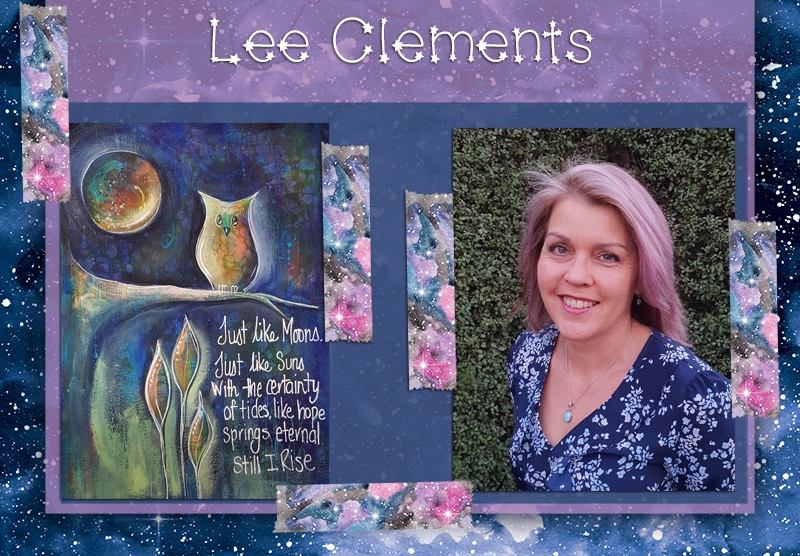 I'm Lee, art journaler, mixed media artist and teacher,wife and mother of 2 living in Melbourne, Australia.
I believe that we all have a creative bone in our body and my aim is to encourage as many people as possible to find theirs. I draw inspiration from the organic beauty of nature and the many facets of the human face and I find calm from the contemplative and meditative practice of mandala making.
 If I can inspire someone to explore different forms of expression and find their voice through art journaling then I am content.
"My art journal is the place where I can express myself honestly, unashamedly, unconditionally, thoughtfully and playfully. It is the place that brings me back to centre and grounds me. It is my place of comfort and healing, a place to explore and play, and foremost, a place where I can just 'be'."
Lee will be featured in August 2019! In the meantime, you can find her on her website here, on Instagram here, on Facebook here, and on her YouTube Channel.
I love Lee because she is infinitely gentle in her approach to art journaling and teaching. Her colour choices sing to me, and I love the way she combines text and imagery to create something that instantly resonates!

Isabelle is a Yoga Teacher, SoulCollage Facilitator, Intentional Creativity Coach, and Intended Creative Teacher who approaches the act of artistic and corporal creation as a gateway to our inner wisdom, as a portal to access the deep messages contained within oneself. Through various practices, she sincerely believes that it is possible to access the desires contained in the depths of our being in order to be able to live a life that is a reflection of it. She deeply believes that it is possible for everyone to access this part of the Self which is at the same time nourishing, healing and powerful.
Isabelle facilitates women's circles and workshops in which various ways to connect more deeply and instinctively with our inner wisdom are explored, in order to live a life in authenticity with our own heart and to reconnect to fullness.
Isabelle will pop up spontaneously through the year as one of our bonus teachers, but in the meantime, you can find her on her website, here. 
I love that Isabelle brings collage to the table as a form of creative expression. I'm also intrigued by the softness of her colour choices, and her emphasis on creativity as a powerful healing modality!

I am an illustrator and online course designer. I am based in western north Carolina where I teach workshops on art for spiritual practice and create zines about art magick. I love to use many different materials and media in my work, but some of my favorites include children's markers, ink pens, inks and acrylic spray paints. I also love to print and stencil.
Elizabeth will pop up throughout the year with her bonus lesson! In the meantime, you can find her on her website here, and on her YouTube channel here.
I love Elizabeth because she combines art and magic in a way that resonates with me. Elizabeth brings simplicity to the table as well, proving that you don't need huge swathes of time in order to have a spiritual or creative practice.

GIVEAWAY TIME
Every day for the rest of this month, I'll be offering you the chance to win a seat in BOD2019! There are several ways to enter! Pick one or all of them. Each of your actions will get you one entry!
Sign up for my newsletter if you haven't already, and come back here to reply with a comment letting me know you did it.
Share the link for this giveaway wherever you post (one entry for each share). Here's the permalink to make your life easier: https://wp.me/p1ZQyo-2d3 (just highlight and copy it)
Grab a button below and put it up on your website. Make sure it links back to https://bit.ly/2OKIG4o (again, highlight and copy it!)
Leave a comment below telling me why you'd love to join BOD2019 next year
Do one, or do them all! Just make sure to comment below for each action. Every comment will be counted as one entry in the drawing, and I will announce the winner on November 1st! YAY!

And that's it for today, loves! I will see you back here tomorrow with a couple more introductions and another chance to win a seat!!