This is DAY SEVEN of MEET YOUR TEACHERS! Please click here to see Day One if you are just hearing about this fabulous collaborative e-course and want to know how it came to be!
Every day between now and November 1st, I'll be giving you an opportunity to win a seat in Book of Days 2019 and introducing you to my guest artist teachers so you can get to know them before we begin.
On deck today are Cristin Chambers & Michelle Rydell. who are main teachers, and Rachael Caringella who is a bonus teacher!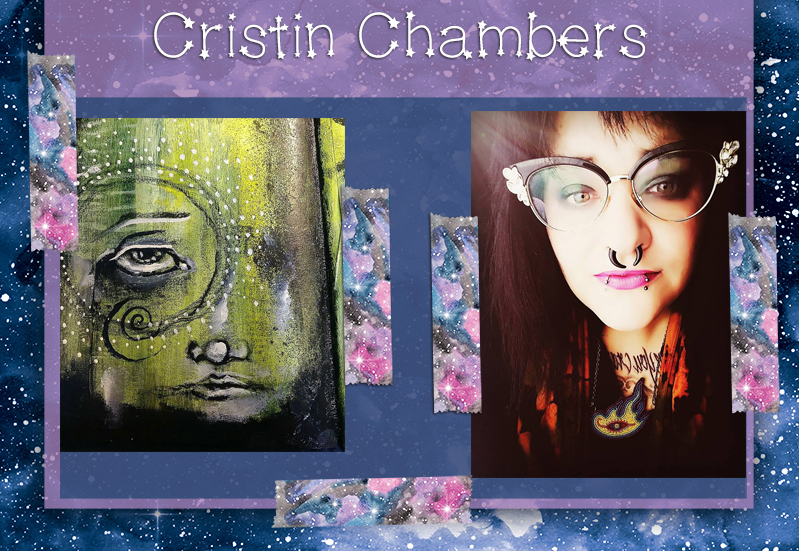 Hello, my name is Cristin Chambers, also known as "PanArt". I consider myself to be an artist that creates with reckless abandon. No supply is off limits and I love to experiment with all mediums (sometimes – all at once!) I am a full-time mixed media artist and teacher. I love to show my students how to let go and have fun with the creative process while stepping outside of their comfort zones and embracing total art rebellion!   I have been creating my entire life, from art – to music – to tattooing. I live because I create. 
"My art journal is the place I find myself again."
Cristin will be featured in October 2019! In the meantime, you can find her on her website here, on Etsy here, on Facebook here, on Instagram here, and on Patreon here.
I love Cristin because she navigates the heart through her art journal in a way that really resonates with me. Her imagery is magically dark, and she is one of my very favourite weird girls. I credit Cristin with breaking me out of a block around using stencils in my work. I used to think of it as 'cheating', but not any more. :)

Click through the thumbnails see the images full sized.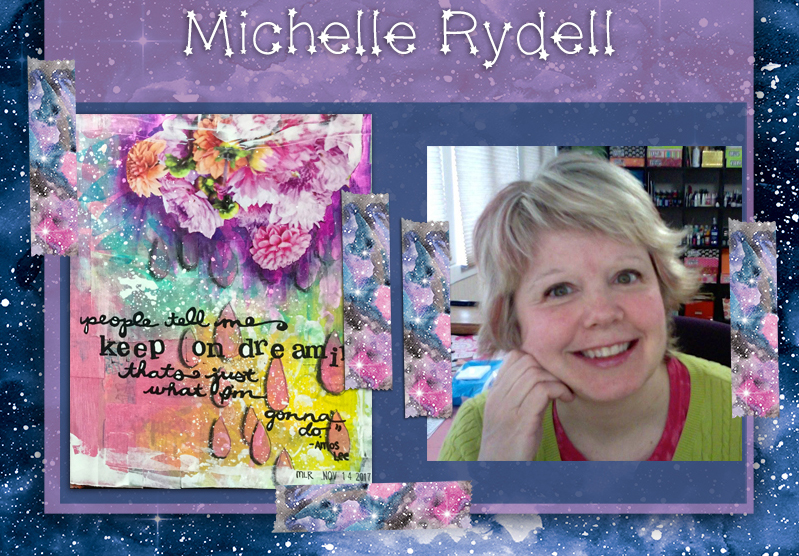 I'm a mixed media artist with a passion for art journaling.  My journal is where I get to celebrate life in my own little playground of paint and collage.  Bright colors and whimsical imagery make me happy, and keep me sane in this chaotic world we live in!
I had been looking to deepen my journaling practice when I found Book of Days in 2012. It was a perfect fit! Effy's method of "meeting yourself on the page," and focusing on the process, was just what I needed!
I'm so excited to be guest teaching in Book of Days 2019 – I can't wait to commune with you all and play in our creative playgrounds!
I live in Minnesota, USA, with my sweet husband Michael and two cats Willie and Johnny.
Michelle will be featured in November 2019! In the meantime, you can find her on Instagram here, Facebook here,Pinterest here, and on her blog here.
I love Michelle's use of colour, but most of all I love her LETTERING. She is a master at getting text in the journal beautifully. She also does really beautiful life documentation and will be a super exciting addition to this line up!

"An artist for as long as I could hold a pencil; I love to create mystical and mysterious art that bridges together the light & dark themes of life. My artistic passions include capturing scenes, dreams and themes through the use of symbology and intention.  I love to blend together the worlds of magic and reality.
Having the inability to settle on anything in this life, I consider myself a mixed media artist. My favorite mediums are pen and ink, watercolor, pastels, acrylic and oils; mixed with the occasional magic of lunar cycles, crystal grids and energy work.
I have a passion for intuitive readings, Tarot and oracle cards, numerology and astrology. I specialize in the divination of Tarot and oracle cards and am delighted to have illustrated both Spirit de la Lune and The Untamed Truth Oracle. "
Rachael will be popping up at some point next year with a bonus lesson. In the meantime, you can find her on her website here, on Facebook here, and on Instagram here. 
I love Rachael because she marries spirituality with art in a way that I just adore. Her work is beautiful blend of realism and magic that sings to my soul.

GIVEAWAY TIME
Every day for the rest of this month, I'll be offering you the chance to win a seat in BOD2019! There are several ways to enter! Pick one or all of them. Each of your actions will get you one entry!
Sign up for my newsletter if you haven't already, and come back here to reply with a comment letting me know you did it.
Share the link for this giveaway wherever you post (one entry for each share). Here's the permalink to make your life easier: https://wp.me/p1ZQyo-2d3 (just highlight and copy it)
Grab a button below and put it up on your website. Make sure it links back to https://bit.ly/2OKIG4o (again, highlight and copy it!)
Leave a comment below telling me why you'd love to join BOD2019 next year
Do one, or do them all! Just make sure to comment below for each action. Every comment will be counted as one entry in the drawing, and I will announce the winner on November 1st! YAY!

And that's it for today, loves! I will see you back here tomorrow with a couple more introductions and another chance to win a seat!!