This is x-posted from my newsletter.
If you've known me for any length of time at all, you know that my primary purpose, the #1 thing that drives me is self-possession. Whatever I'm doing, that's the goal. I want to be my own authority. I want to know myself so intimately that everything I do is in alignment with my values.
Well, I lost myself there for a couple of years. A love affair and subsequent breakup, my son's mental illness, which moved me to upend my life and move in with him only to turn around and upend my life and move out again six months later (we're good now, though – we love GG! We just don't love the illness that, without medication, makes him a bit of a bear to deal with, eh?), relocating to a new city in the middle of this damned panini, bone crushing loneliness, layer after layer of grief, intense trauma work in therapy….
…it should come as no surprise that wine o'clock started coming earlier and earlier in the day. I *know* I'm not alone.
Needless to say, I have been anything but "self-possessed".
Twelve days ago at the stroke of midnight, I quietly and determinedly dumped all the alcohol in my home and rolled myself up in the blanket fort with the furbabes to have a nice long cry over my loss of control over my rate of consumption of alcohol. When I woke up the next morning, I signed up for an alcohol free challenge (gamefying things works for me), got my butt into a sober support group, and installed a sobriety tracker on my phone. I connected with a couple of people in my support group so we could "buddy up" and I've been alcohol free since.
Best. Decision. Ever.
This was me on Day Eight. LOOK AT MY EYES! Seriously.
The first three days were gnarly, let me tell you. Insomnia, tremors, difficulty regulating my temperature. My skin felt like it was going to crawl right off of my body. I was dizzy and wobbly and whoa. Slowly but surely, though, things improved. I started to sleep better. I woke up *without* anxiety and depression. My *vision* improved (did not know that was a thing, but it is a thing!). The tremors stopped. My digestion improved. My appetite came roaring back with voracious cravings for avocados and pan roasted tomatoes and sautéed greens and allllll the cheeeeeeese and olives and hummus and CUCUMBERS omg CUCUMBERS.
I stopped ordering in food because the crap I'd been eating wasn't what my body wanted. I dusted off my chef's knife and started cooking again. The dogs, who had been picking up on my frenetic alcohol fueled anxiety and acting out calmed right down and returned to their usual sweet, chilled out selves.
Seriously – I have never been able to get a decent picture of Salem unless she was sleeping because she *could not stay still*.
Look at this. LOOK!
Soooooo Mellllloooooow! *Happy Sigh*
Why am I telling you this?
I guess I want to you to know. I want you to know that while I've been plodding along over here through *waves at all of this*, life got to me. All the tools I had in my tool box – art journaling, spiritual practice, self-inquiry, therapy – lost their power in my life because I was soaking my brainmeats in cheap boxed chardonnay – and if that can happen to me, it can happen to anyone. If you're in your own struggle with whatever, I want you to know that you *can claw yourself back from it*, and it's nothing to be ashamed of. Help is out there and recovery is possible. A quick Google search will yield results – some free, some not free.
Here are the resources I'm leaning on:
One Year No Beer Alcohol Free Challenge – Daily videos and emails, gorgeous support group. Varying timed challenges (28 days, 90 days, 265 days – I signed up for the year because I am dead serious).
Alcohol Explained by William Porter – This was life changing for me because it perfectly explained what alcohol was doing to my brain and why it was so easy to fall prey to it, and so hard to let it go. Available on Kindle, too!
I Am Sober – an app that tracks money saved, calories saved (I didn't care about this, but some might), hours saved (because you're not really focused and functional when you're low key buzzed all day). It prompts you to make a daily pledge and then do a nightly review. Very supportive. Available on both Android and IOS.
For those who prefer a more traditional route (AA), check out In The Rooms for 24/7 meetings and support. AA is not for me for reasons I won't go into here, but it works for a lot of humans, so if it resonates, dooooo eeeeeet!
Okay, that's enough of that.
My focus from here on out will be all of things that move me in the direction of my prayers – the art as magics, the self-inquiry, the vigilance against anything that knocks me off course, connection with other humans, pottery (which keeps me grounded), ritual and structure and good habits (like walking the dogs and that vitamin packed smoothie every morning and fizzy water with lemon and checking in with my alcohol free buddies). I may occasionally mention where I'm at on this journey, but one of the things I've learned over the last 11 days is that focusing on what I *do* want (to be clear-eyed and minded and energized and ALIVE IN THE WORLD) rather than on what I *don't* want is the way through this thing.
In other words, this will not become a "sobriety newsletter". I have a million other things to write about and focus on.
LIKE ALL OF THESE GOODIES!
First of all, I've got a special weekend workshop upcoming in which I will be decorating a new Sweet Trash Journal for use in 2022. This retreat will include a bunch of demos of how I use the journal! It's being offered as a special price until December 13th! Get the details here: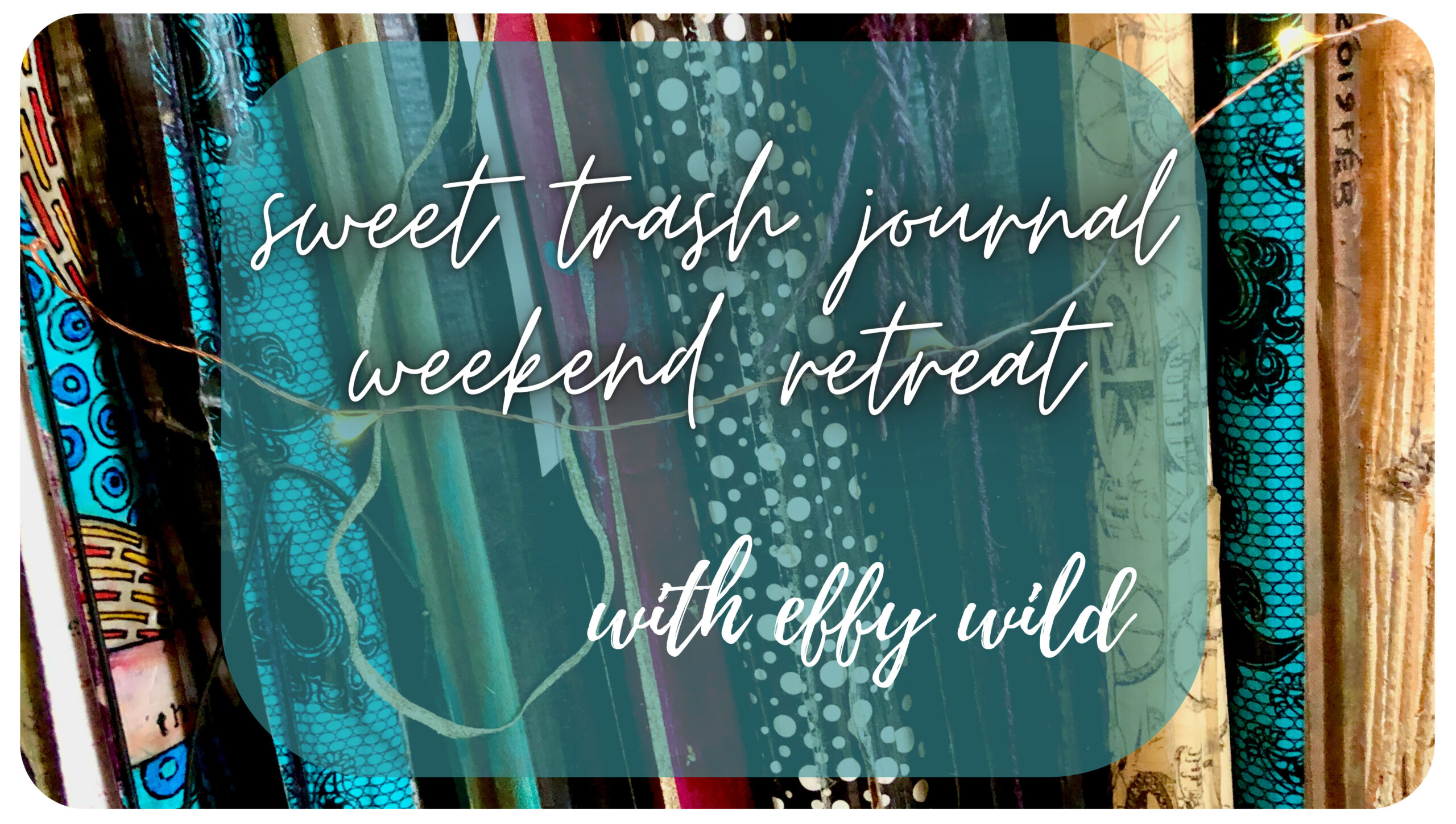 Ten hours of live video instruction + replays + forever access for $27 until December 13th, at which point the price will go up to $45! I hope to see you in there. 
ONE BAD ASS ART JOURNAL is now open for registration. EARLY BIRD PRICING IS $69. I'm really excited about this year since I wasn't feeling very bad ass through 2021, but I'm definitely going into 2022 with my BAD ASS FULL PRESENT. Here are the details. 
FREEBIES FREEBIES!!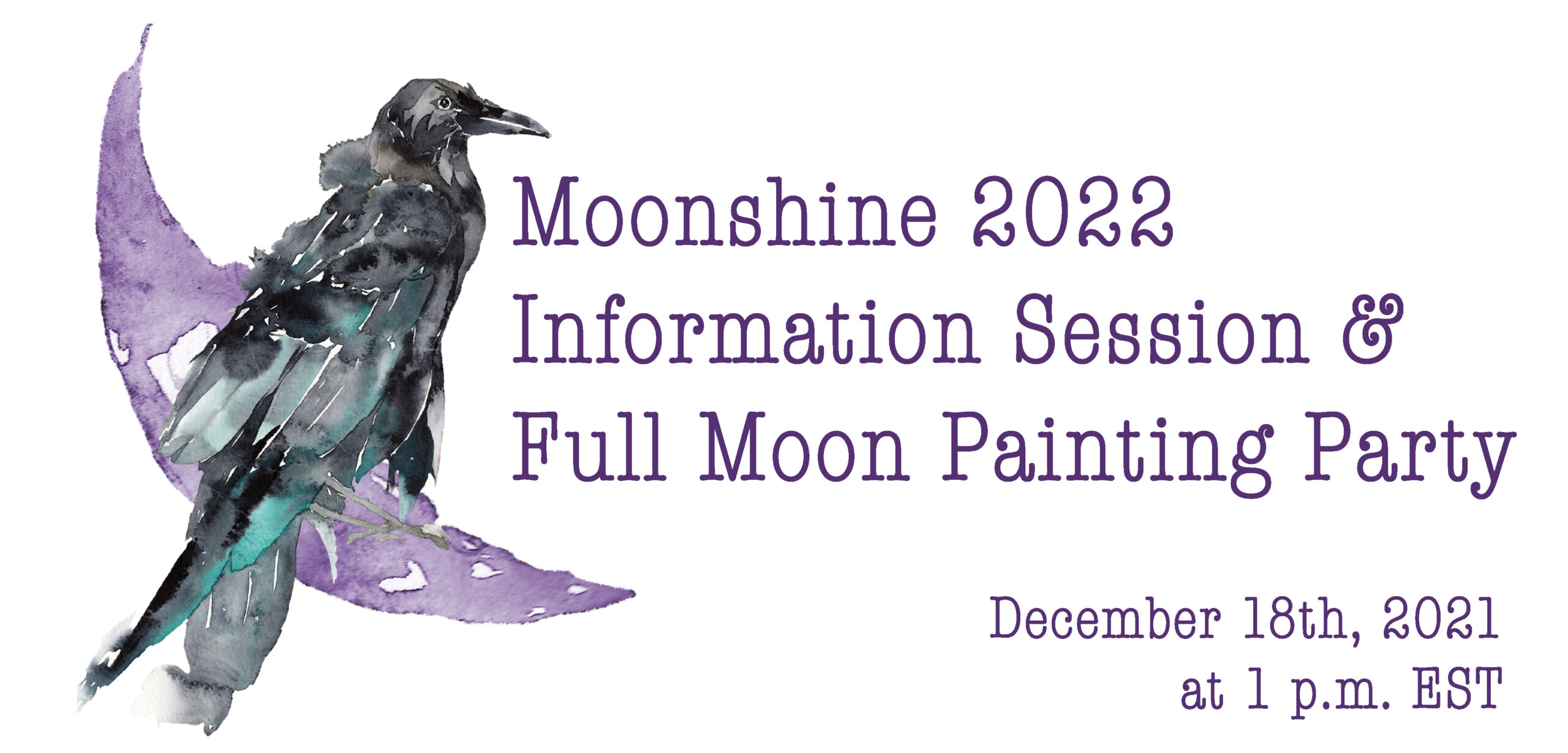 We have a full moon + info session on December 18th (Full Moon Actual) at 1 p.m. EST. Here is the link This gathering will include an hour long info session right off the top, and then we will move into a Full Moon Painting Party. Everyone who attends will get a coupon code for Moonshine 2022 AND a chance to win a spot.
There will be a replay offered to all attendees. If you can't attend, but you want a replay, please hit reply to this email and I'll send you one. 


We have a Solstice Releasingi Ceremony on December 22nd, 2021 at 1 p.m. EST. Here is the link. This gathering is open to the public, so feel free to tell your friends!
And FINALLY!
Book Of Days 2022 is filling up with beautiful faces and I hope you'll join me for a gorgeous year of creativity presented to you by me and my deep diving, soul stirring, amazing guest artists!
Class is on sale for $99 (no coupon required) until December 31st at which point it will go up to $120 (still a fraction of what it's worth!)
Sending you all my love,
xo
Effy