Here For Love & Glitter
My name is Effy, and I'm a journal artist & on line teacher. I discovered art journaling in 2009 and my life has completely changed as a result.

I like to share, so there's lots of free stuff in my on line community, including my monthly "Wildly Inspired" art journal series. You can also find my bookbinding 101 tutorial there. I have a newsletter that I use to share what's happening in my virtual world, including classes I'm teaching or taking, specials and coupon codes for said classes, and other things of note. You can sign up for that here. You can read more more about me here, find out what & where I'm teaching here, or contact me here.
My Project Life binder was filling up nicely until March of this year when the prospect of recording what was one of the darkest, bleakest periods of my life sent me whimpering away from all things memory keeping. I mean, I still journaled, but the stuff I was...
Radiant: Faces
Book Of Days
Muse Merriment
Grab A Button!
My Must Reads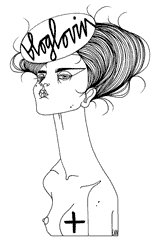 Sponsors
Advertise
If you'd like a 150 x 150 logo in this side bar, please e-mail
effy@effywild.com
to express interest.