Here For Love & Glitter
My name is Effy, and I'm a journal artist & on line teacher. I discovered art journaling in 2009 and my life has completely changed as a result.

I like to share, so there's lots of free stuff in my on line community, including my bi-weekly "Wildly Inspired" art journal series. You can also find my bookbinding 101 tutorial there. I have a newsletter that I use to share what's happening in my virtual world, including classes I'm teaching or taking, specials and coupon codes for said classes, and other things of note. I generally send it out on Mondays with occasional extra bits thrown in here and there. You can sign up for that here. You can read more more about me here, find out what & where I'm teaching here, or contact me here.
Wow. So, I haven't posted (or sent a newsletter) since July 15th because SEE ABOVE. Wow. And it's not a good wow, either. It's a 'holy-crap-can-life-dish-it' wow. I wanted to wait until I had something good to say before I checked in with you because I am weary of my...
Radiant: Faces
Book Of Days
Muse Merriment
Grab A Button!
My Must Reads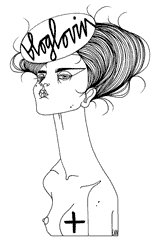 Sponsors
Advertise
If you'd like a 150 x 150 logo in this side bar, please e-mail
effy@effywild.com
to express interest.
Recent Posts
Recent Comments