Here For Love & Glitter
My name is Effy, and I'm a journal artist & on line teacher. I discovered art journaling in 2009 and my life has completely changed as a result.

I like to share, so there's lots of free stuff in my on line community, including my monthly "Wildly Inspired" art journal series. You can also find my bookbinding 101 tutorial there. I have a newsletter that I use to share what's happening in my virtual world, including classes I'm teaching or taking, specials and coupon codes for said classes, and other things of note. You can sign up for that here. You can read more more about me here, or contact me here.
Hiya. :) Wow. That last post was a doozy, eh? And your responses were amazeballs. So beautifully witnessing and supportive. THANK YOU. x a bazillion. For the last couple of days, I've been all over the Internets answering questions, emails and PMs about my depression...
Radiant: Faces
Book Of Days
Muse Merriment
Grab A Button!
My Must Reads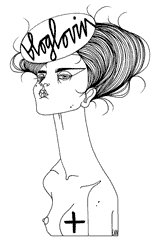 Sponsors
Advertise
If you'd like a 150 x 150 logo in this side bar, please e-mail
effy@effywild.com
to express interest.